Sun Goes Underground in Japan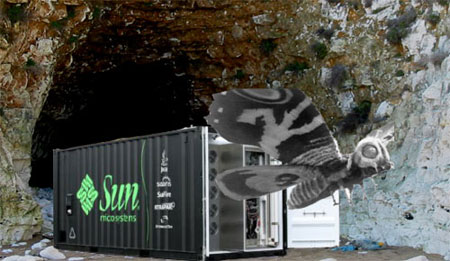 U.S. computer maker Sun Microsystems Inc. and 11 other entities on Wednesday launched a project to build power-saving underground data centers in Japan.

For the project, Sun Microsystems will offer its Project Blackbox method using shipping containers.

Specifically, data centers comprising 10,000 server computers will be built into 30 shipping containers for installation 100 meters below ground at a former mine. The location of the site was not disclosed for security reasons.

Construction costs are estimated at 45 billion yen. The consortium, which also includes Internet Initiative Japan Inc. <3774>, NTT Communications Corp. and Chuo University, plans to start operating the data centers in April 2010.

As temperatures at the underground site will stay at 15 degrees Celsius all year, air conditioning systems will not be necessary while groundwater can be used to cool the servers.

About one billion yen of electricity costs will thus be saved annually, according to the consortium.

The consortium hopes to win orders from both the public and private sectors for data storage services using the container-type data centers.Sun Goes Underground in Japan
Partners with 11 Other Firms to Build Datacenters in Coal Mine
Sun and 11 other entities are collaborating in the construction of an underground data center in a worked-out coal mine in the Chubu region on Japan's Honshu island. Sun will contribute its signature Project Blackbox, which can typically provide 250 servers mounted in seven racks inside a standard 20-foot shipping container, as Chris Mellor, of Techworld reports. With T-series processors, Sun claims a single Blackbox can hold up to 2,000 cores, providing 8,000 simultaneous processing threads.
Situated 100 meters below ground, the ambient temperature in the proposed data center (budgeted at 45 billion yen -- US$405 million -- will remain at 15 degrees Celsius (59 degrees Fahrenheit) year round, eliminating the need for air conditioning. Moreover, groundwater can be used for cooling. This arrangement is projected to result in an annual savings of one billion yen of electricity costs (US$9 million), which will thus be saved annually, according to the consortium, whose members include Internet Initiative Japan - an ISP, BearingPoint, Itochu Techno-Solutions, NS Solutions and Chuo University. The data center is scheduled for operation in April 2010.
Sun will build 30 Blackbox self-contained data centers containing a total of 10,000 servers (cores), which will be increased to 30,000 cores if there is sufficient demand.
Japan Corporate News (JCN) reports that the consortium hopes to win orders from both the public and private sectors for data storage services using the container-type data centers.
Mellor notes that, at 100 meters below ground, the data centers will be relatively easy to secure against terrorist attacks and unauthorized entry. What is more, the Blackbox containers can withstand earthquakes up to a quake of magnitude 6.7 on the Richter scale.
It's a Shipping Container. No, It's a Data Center in a Box.
Peter DaSilva for The New York Times
).
MENLO PARK, Calif., Sun Microsystems has developed a novel "data center in a box" in an effort to transform the fundamental economics of corporate computing.
The expandable computer system, called Project Blackbox, is based on a standard 20-foot shipping container and can be deployed virtually anywhere there is electricity, chilled water and an Internet connection.
Sun will introduce a prototype at its headquarters here on Tuesday. The system is planned for commercial availability in the second half of 2007, with prices beginning around $500,000.
To design the system, Sun turned to W. Daniel Hillis, an independent computer designer who has done pioneering work in supercomputing and artificial intelligence. He is co-chairman of Applied Minds, a consulting and research and development company in Glendale, Calif.
Arguing that today's increasingly vast data centers are unwieldy and require corporations to become unwilling computer designers, Sun executives said Blackbox would simplify installation.
Such a system would make it possible for New York-based companies to relocate data centers from costly space in the city to low-cost warehouses in New Jersey with minimal effort, they suggested. Or an oil company could locate a high-performance computing system on site — even on an oil rig.
In "The Box: How the Shipping Container Made the World Smaller and the World Economy Bigger" (Princeton University Press, 2006), the economist Marc Levinson said the container is a crucial component of a commerce system designed to move goods anywhere in the world with maximum efficiency.
Sun executives said they were trying to take advantage of that model.
The new systems are not aimed at all types of large-scale computing applications, said Jonathan I. Schwartz, chief executive of Sun Microsystems. Rather, the system is intended for computing projects that need to come to market or to scale up quickly.
While a standard shipping container might appear less well manicured than a standard company data center, the idea would make sense to corporate computer managers who needed to bring new capacity online quickly, he said.
"A company parking lot is just really cheap real estate," Mr. Schwartz said.
Mr. Schwartz rose to the chief executive position less than six months ago with a mandate to reverse the decline Sun has experienced since the end of the dot-com boom. And computing experts suggested that the mobile data center was a gamble that could pay off.
"What an out-there idea," said David A. Patterson, a computer scientist at the University of California, Berkeley, who has worked closely with Sun and with Mr. Hillis. "You could convert your warehouse into a modern data center."
Mr. Schwartz said the mobile data center would be attractive to customers that need to expand computing capacity quickly. Sun will lease as well as sell the systems, and Mr. Schwartz said the entire system is recyclable.
On Monday, he gave a reporter a tour of the prototype system, which sits in a container case adjacent to a Sun office building here, connected to two large fire hoses for water cooling and 500 kilowatts of redundant power.
Painted black with a lime green Sun logo, the system can consist of up to seven tightly packed racks of 35 server computers based on either Sun's Niagara Sparc processor or an Opteron chip from Advanced Micro Devices. The system includes sensors to detect tampering or movement and features a large red button to shut it down in an emergency. Once plugged in, it requires just five minutes to be ready to run applications.
Sun has applied for five patents on the design of the system, including a water-cooling technique that focuses chilled air directly on hot spots within individual computing servers.
The system, which Sun refers to as "cyclonic cooling," makes it possible to create a data center that is five times as space-efficient as traditional data centers, and 10 percent to 15 percent more power-efficient, Mr. Schwartz said.
"We are targeting customers who are concerned about saving space, power and getting to market quickly," he said.
The project grew out of conversations that Mr. Hillis had with Greg Papadopoulos, Sun's chief technology officer. Mr. Papadopoulos had worked for Mr. Hillis in the 1990's at Thinking Machines, a maker of massively parallel supercomputers based in Cambridge, Mass.
Long an advocate of the concept of utility computing, analogous to the way electricity is currently delivered, Mr. Hillis said he realized that large companies were wasting significant time assembling their own systems from small building blocks.
"It struck me that everyone is rolling their own in-house and doing manufacturing in-house," he said. "We realized that this obviously is something that is shippable."
Neither Mr. Hillis nor Mr. Schwartz would comment on whether their prototype is related to reports that surfaced last year about a containerized computing system that was rumored to have been seen in an underground parking lot at Google.
Google is typically close-lipped about its data-center designs.
by Zoe Archer
Every day, techies around the world are thinking of new ways to make data storage facilities a little bit more awesome.
Whilst some look awesome others are focused on top-notch security, and I wanted to take the opportunity to share some of our favorites with the Royal Pingdom readers.
Bunkers
We'll begin with two European facilities built to military specifications.
TheBunker and CyberBunker both offer heavy duty reinforced concrete walls and store all the important equipment underground, to protect it from nuclear explosions or EMP devices. If you're concerned about someone trying to bomb your webserver, these may be a good option - but I'd hope that most people would have bigger things to worry about if nuclear war broke out.

Above left: CyberBunker. Above right: TheBunker.
The CyberBunker claims to be able to continue working even if cut off from the outside world for ten years; through I'm still unsure what use a data centre is if it's disconnected from the rest of the world. I guess it's still a comfort to know that even though TheBunker is likely to be 90% filled with pictures of kittens, they are protected by Ministry of Defence trained guard dogs.
Coming Soon
Last year, Tech Digest and the Omaha World Herald both covered stories about forthcoming heavy-duty data centres. These buildings are, respectively, a nuclear waste facility and an ammunitions store.

Above left: A soon-to-be data center in Germany (former nuclear waste facility). Above right: A former ammunitions store being converted to a data center.
Originally designed to cope with explosions coming from within, these buildings ought to be much safer once they're crammed full of servers instead.
Biblical Hosting
So, just because there's not much that's stylish about a metal box doesn't mean that they can't be surrounded by interesting architecture.
While a Swedish ISP has also headed underground to build a stylish facility that looks like the Devil's data center, Boston College have converted a former Catholic chapel twice the size of their previous data center.

Above left: The Pionen underground data center in Sweden. Above right: Former chapel as a data center (note the windows).
Interestingly, the architects of both facilities decided it was necessary to include a viewing platform, presumably allowing power hungry sys-admins to laud over their army of data.
Data On The Move
Some enterprising engineers have realised that there is no reason why data centers have to stay still. Sun developed Project Blackbox to allow data center facilities to be deployed faster and more compactly than before. If you need a server farm in the middle of nowhere, this is perhaps the way to do it. Google, on the other hand have submitted a patent for a floating data center that uses the sea to generate power and cool their racks.

Top: The Sun Blackbox. Bottom: Schematic for a floating Google data center.

Modular Datacenter

Modular Datacenter radically changes how datacenter capacity is deployed. No longer tied to one location, organizations can locate their Sun Modular Datacenters where it makes the most sense and then relocate as their organizational requirements change.
Secrets of the Sun Modular Datacenter Revealed

Learn about the key features and benefits of the Sun Modular Datacenter through an interactive, 3D animated tour, hosted by Maurice Cloutier.

Sun Modular Datacenter
Earthquake Test

Watch the Sun Modular Datacenter survive a magnitude 6.7 earthquake using one of the world's largest shake tables at UC San Diego.
Watch Now